Barnes and Noble, the world's largest bookseller, have launched a free eReader application for the Apple iPad. This application can access more than 1 million titles, as it uses the same ebook store that provides content (ebooks, newspapers and magazines) for the Barnes and Noble Nook ebook reader device.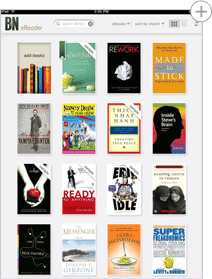 A unique and innovative feature of this application is that it offers LendMe technology, which enables the owner of a certain ebook to lend it for 14 days to another persons compatible device. During this lending time the original owner of the ebook cannot access the same ebook.
There are also 8 font types available to allow you to choose your prefered typeface and 5 text sizes, plus adjustable margins. Millions of colors are available for texts, highlights, links and pages based on pre-designed themes. Merriam-Webster's pocket dictionary is built-in, and a browser to enable use of Wikipedia and Google. You can also find the last book read at the top of the library, or sort by author, title or date added.
Just remember that an iPad is a huge investment, therfore it's wise if you protect it from accidental bumps and scratches that could be detrimental to it's function and readability of the display. You are invited to check out the eBookReaderGuide.com Top 10 iPad Covers and Cases round-up of the most affordable, durable and high protection products on the market based on our expert reviews.